Orchard Picnic Matsukawa | Orchard Dining in Nagano
Grab one of our hampers and enjoy a gourmet picnic lunch at a picturesque orchard in Nagano
Activity
Orchard Picnic Matsukawa | Fine dining picnic lunch at scenic orchard in Nagano Matsukawa
Index
1.Menu
2.Experience
3.Host Orchards
4.Price
---
What better way to enjoy a well-deserved vacation than to lay a blanket in the shade of an old apple tree, kick off your shoes, and feast on a picnic hamper filled with delicacies?
It sounds like a scene out of a romantic movie. And now you can experience it in Matsukawa, an idyllic orchard town in the south of Nagano Prefecture.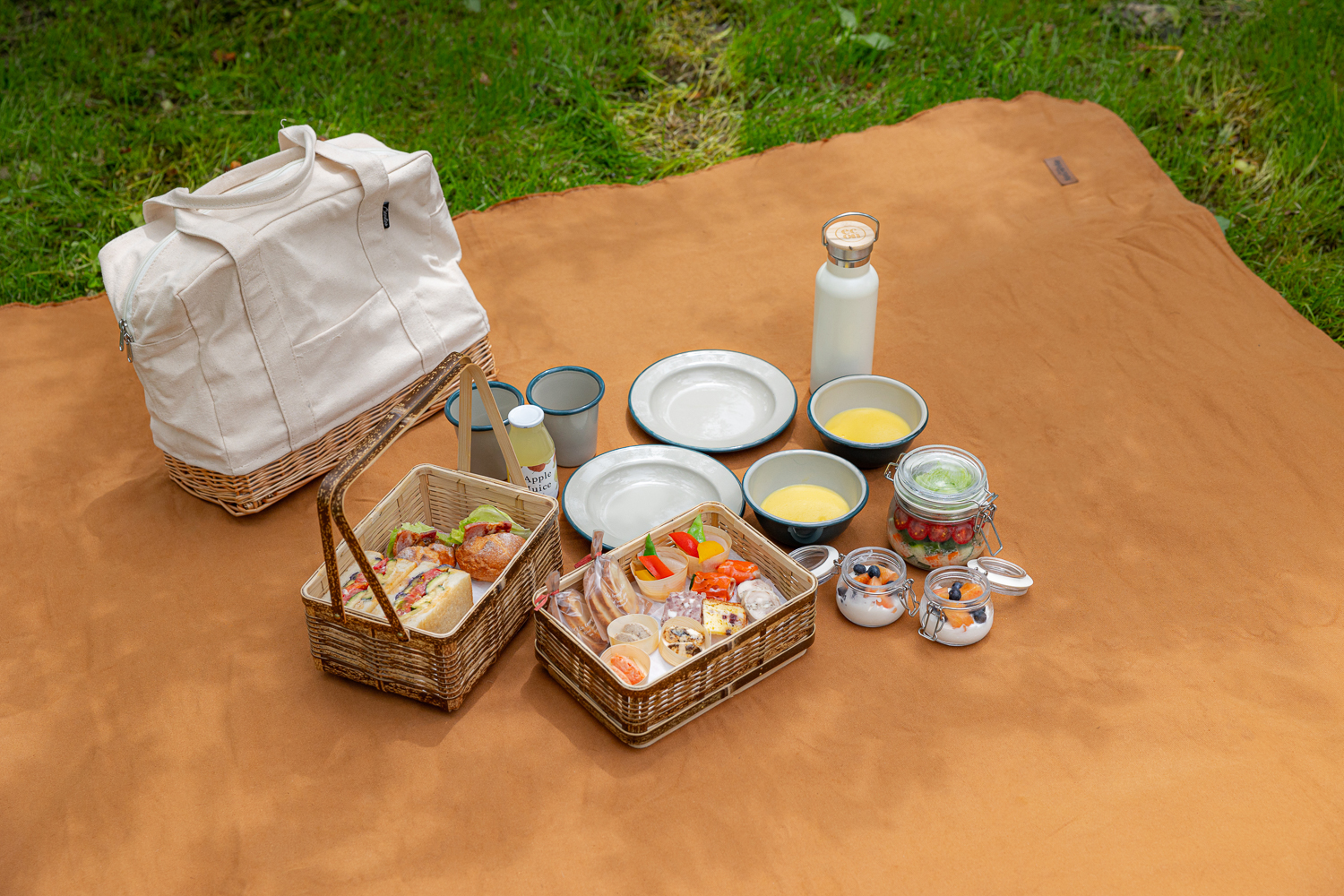 What is Orchard Picnic Matsukawa?
With its long fruit farming history going back 100 years and over 600 orchards, Matsukawa is one of Japan's major fruit picking destinations.
From early June to late November, tree branches ripen with fruit. Cherries, blueberries, plums, prunes, and peaches in the summer. All kinds of pears and apples in the fall.
And if the prospect of sweet, juicy fruit is not enough to entice you, Matsukawa also offers some of the loveliest sceneries imaginable. The majestic silhouettes of the Japanese Alps rise in the background while the elegant mass of the well-pruned orchards stretch in all directions as far as the eye can see.
Book our picnic and drop by one of Matsukawa's well-kept orchards for one afternoon of leisure. We will provide everything you need for the perfect picnic, from a waterproof blanket to a hamper full of delicious treats, so all you have to do is show up.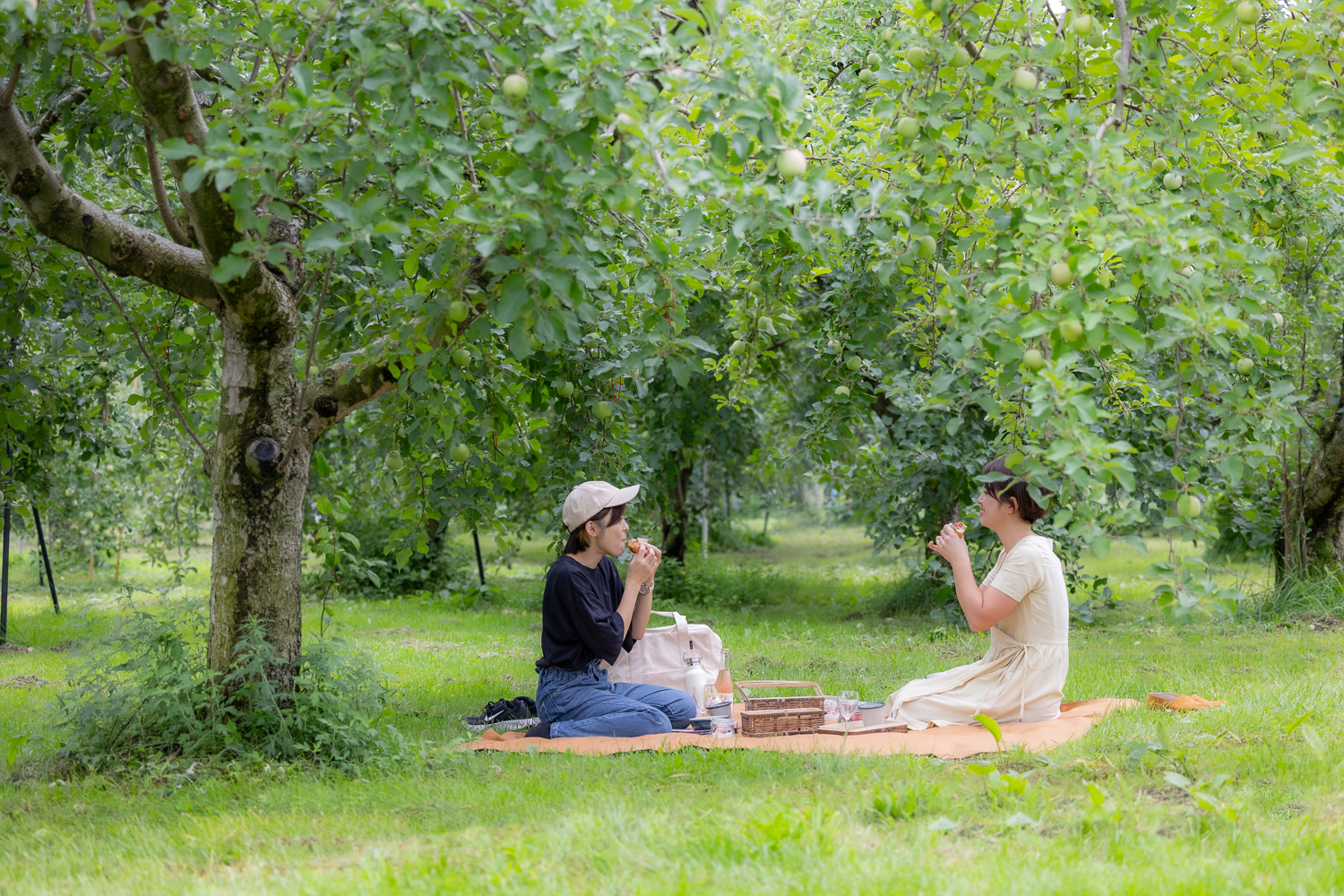 What is on the menu?
Of course, when it comes to a successful picnic, food and location go hand in hand. Our menu features gourmet food prepared with the freshest, locally sourced products, such as seasonal fruit and vegetables from Matsukawa's orchards, tender pork raised in the area, and freshwater fish.
Inside your hand-crafted picnic basket, you will find seven assorted appetizers, one vegetable sandwich, one pork and apple sauce sandwich, soup, a jar salad, a refreshing fruit dessert, and a small bottle of apple juice to share. *As we use seasonal ingredients, the menu changes depending on what time of the year you visit.

What can I do at the orchard?
There is no time restraint to your visit to the orchard, so we recommend you take your time and relax. Pick one spot you fancy under the tangled branches of a pear tree grove or in the shade of a thick apple tree, lay out your blanket, and enjoy.
Some orchards sell their own juice, cider, and wine. So why not buy a bottle to accompany your lunch?
After eating, you can lay back on the blanket and relish the fragrant air and balmy wind. And if you get a bit hungry, you can go fruit picking. (Please pay the orchard directly if you decide to give fruit picking a try)
Host Orchards:
・Fruit Garden Kitazawa
(Japanese pear picking -August~early October/
Apple picking late -August~late November- are available for an extra fee.
Apple juice and cider on sale.)
・Maruho Matsuo Farm  available from late June to late November
(Japanese pear picking -September~late October/
Apple picking -September~late November- are available for an extra fee.
Apple and blueberry juice on sale.)
・Marudai Oba Farm  available from late August to late November on weekdays
※Marudai Oba Farm requires all picnic guests to reserve fruit picking.
Please contact the farm directly to book your preferred fruit picking session once the picnic reservation is confirmed.
(Grape picking -September~October/
Japanese pear picking -late August~late September/
Apple picking -September~late November- are available for an extra fee.
Juice and cider on sale)
Information
Open

from April to November

Price

2,600 JPY/meal

Max. no of meals

12 meals
※Portions are quite large so we recommend families with small children share their meals.
(ex. 2 meals might be sufficient for a family of 4)

Min. no of meals

2 meals

Reservation deadline

5 days in advance

Cancellation due to weather

In case of rain, we will arrange the picnic at an orchard provided with a roofed space.

※ The picnic will be cancelled if there is a chance of extremely bad weather, like typhoons, heavy rain and flood warnings, and other emergency situations.

What to bring

・Something to drink
・Bug repellent

What we provide

・Picnic blankets (waterproof)
・Meal
・Cutlery (forks, spoons, chopsticks, tea spoons)
・Dishes (flat dishes and bowls) and cups
・Napkins

Cancellation policy

5~2 days prior: 30% of total amount
1 day prior: 50% of total amount
Day of activity: 100% of total amount

Notes

・Please inform us at the moment of reservation if you have any allergy
・Policy concerning pets:
 If the host orchard allows pets, you can enjoy the picnic together with your pooch.
 【Fruit Garden Kitazawa】- accepts medium-sized dog breeds under 10kg
 【Marudai Oba Farm】accepts dogs of any size
(in case of large breeds it is necessary to check with the orchard beforehand)
 【Maruho Matsuo Farm】accepts dogs of any size
Ask us more and plan your visit
We're here to help—explore our web site, then ask away!
Use our web contact form when planning
what to do and see, and where to stay.
Inquiries