Orchard Restaurant Matsukawa in Nagano
From "Farm to Table" to "Table to Farm" | an Unforgettable Fine Dining Experience in the middle of an Orchard
Activity
"Table to Farm" | Fine Dining under Tree Branches at Scenic Orchard in Nagano
There are no more dates available for 2022. Orchard Restaurant Matsukawa will be back in April 2023, with reservations starting in March. Stay tuned!
---
Index
1.About the Dining
2.Schedule
3.Host Farms
4.Price
5.Calendar
6.Menu
---
Embraced on two sides by the Japanese Alps, the idyllic orchard town of Matsukawa in Nagano provides the stage for our experience.
Matsukawa is a well-known fruit picking destination and has a long-standing fruit farming tradition that goes back over 100 years. From June to November, there is plenty of fruit to be eaten- cherries, blueberries, peaches, plums, prunes, grapes, pears, and apples.

Here, immersed in the picturesque beauty of Matsukawa's old orchards, we have embarked on an innovative farm-to-table experience.
Bringing the farm to the restaurant table did not seem enough, so we decided to bring the tables to the farm. There is no need for roofs or walls in our restaurant- we have placed the tables and chairs right in the middle of the orchard.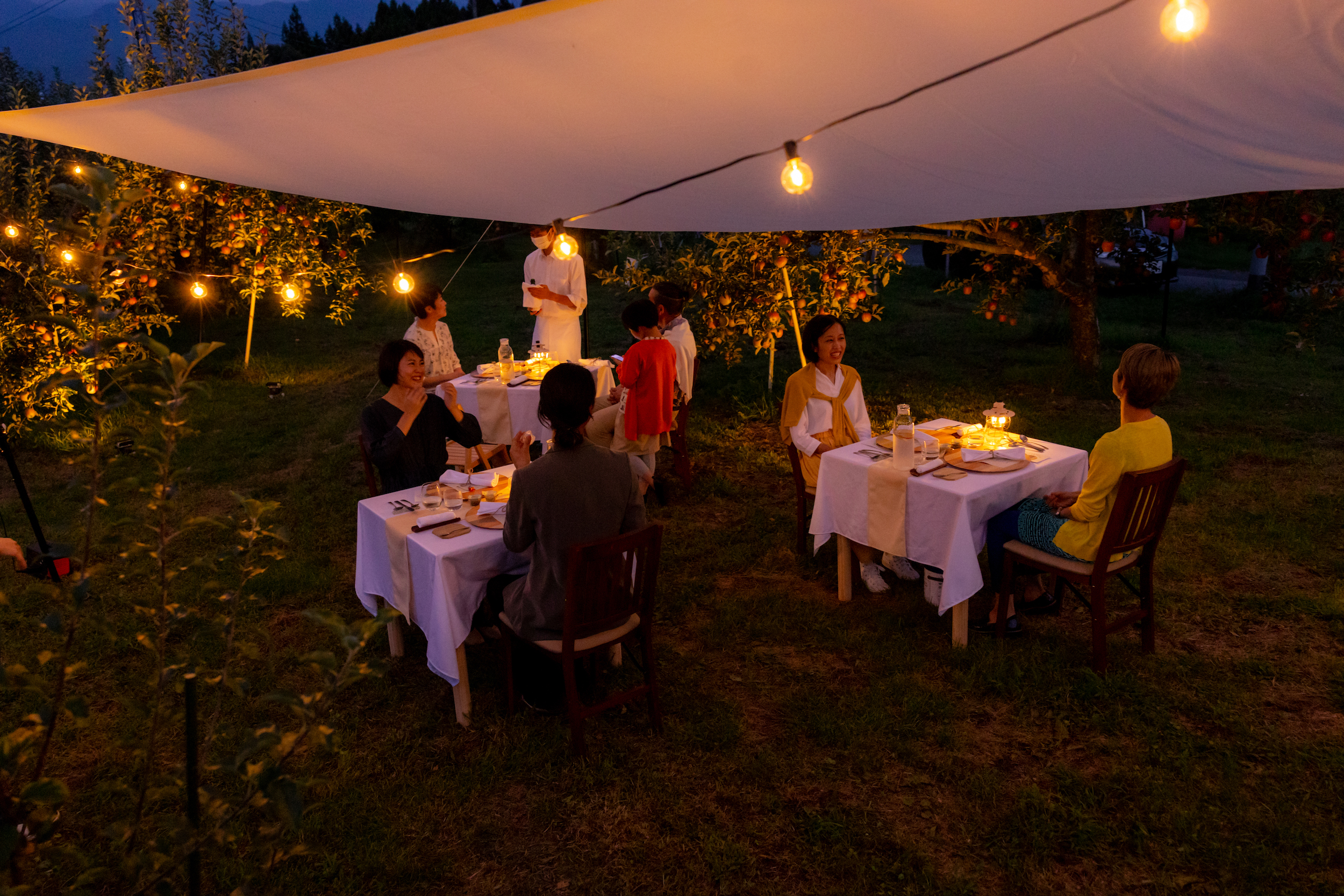 Orchard Restaurant Matsukawa, our new outdoor orchard restaurant, opened in Matsukawa, Nagano, on October 8th, 2022. It offers the unique chance of savoring a full-course French meal in the fairytale-like atmosphere of an orchard, surrounded by sturdy trees and with the breathtaking view of the Alps.
Following the farm-to-table tradition, all ingredients come from the local farms of Matsukawa Town and the Ina Valley.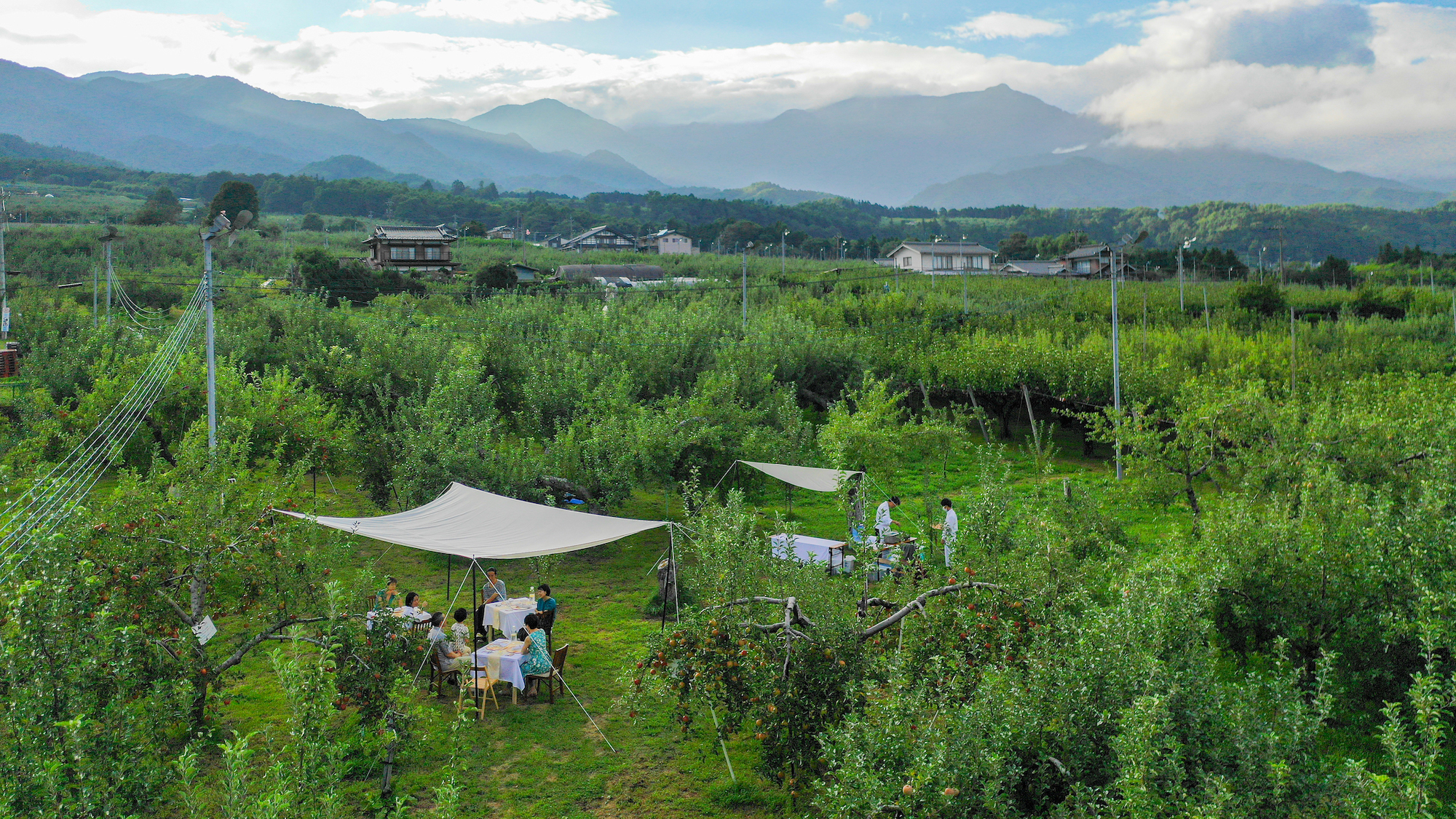 More than anything, we want our guests to enjoy the magical space of Matsukawa's orchards- spaces born from the encounter of nature, agriculture, and local culture.
We believe that sampling the food where it was grown makes it taste even better.
The restaurant has only five tables, so don't miss your chance!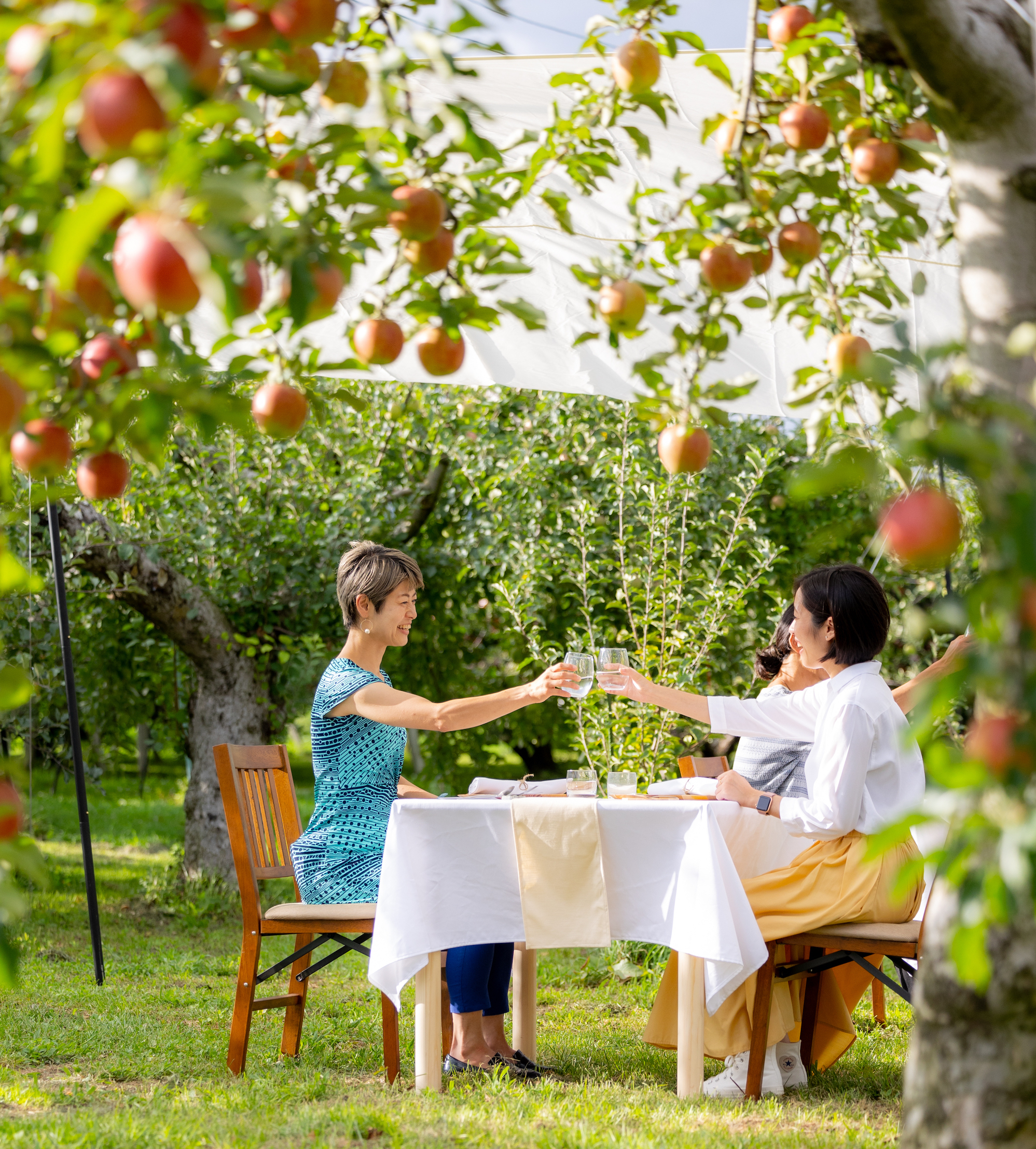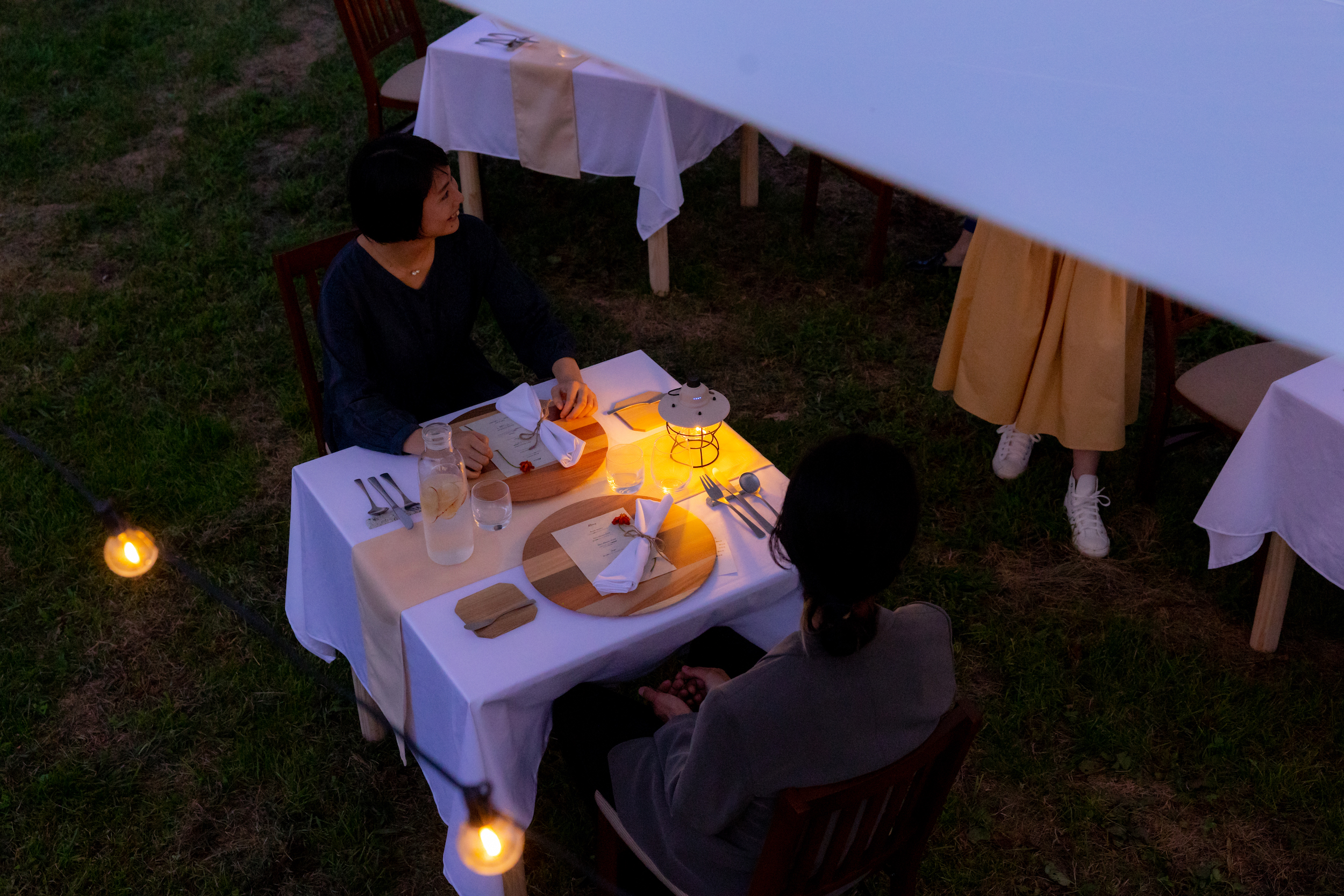 What is the Schedule of the Event?
Orchard Restaurant Matsukawa is held every weekend from April to November, each time at a different orchard.
The meeting time is set in advance, and the event starts once all participants show up.

Borrowing from the European winery tour customs, we begin with a short tour of the grounds. The owner shows us around the orchard, telling a bit about fruit farming and offering fruit tasting when in season. At the end of this guided walk, we gather at the orchard's most scenic spot to enjoy a simple aperitif of local cider.

Then, we head to the dining area to sit and eat.
What is on the menu?
The menu changes every season. There are seven courses: amuse-bouche, meat appetizer, fish appetizer, soup, main dish, dessert, and coffee or tea.

All main ingredients are locally sourced from the area's farms and orchards. Matsukawa is a treasure trove for fresh products- fruit but also organic vegetables, freshwater fish, and even pork.

And let's not forget the thriving cider and wine production. The three breweries in town make various alcoholic and non-alcoholic drinks made with fruit from their own farms. We offer a cider/wine pairing option with labels from all three breweries both at lunch and dinner.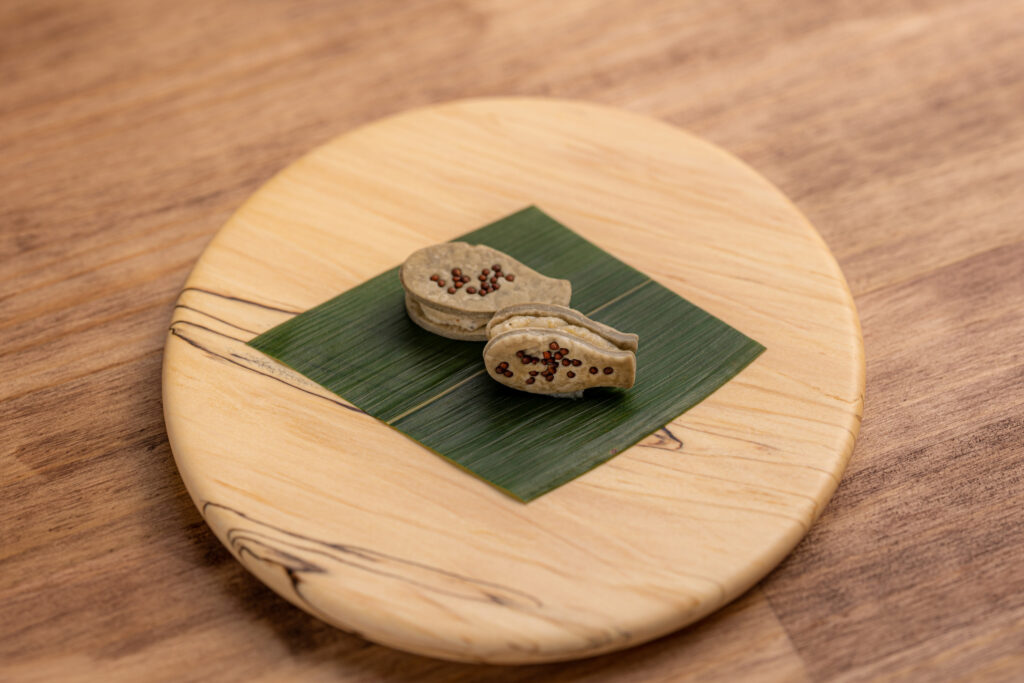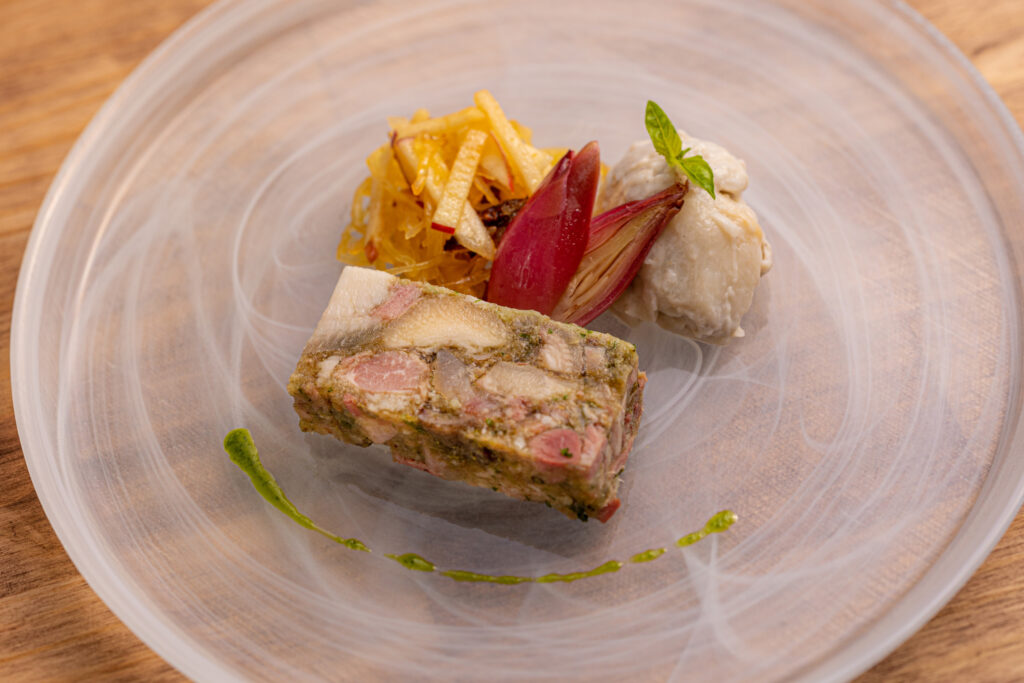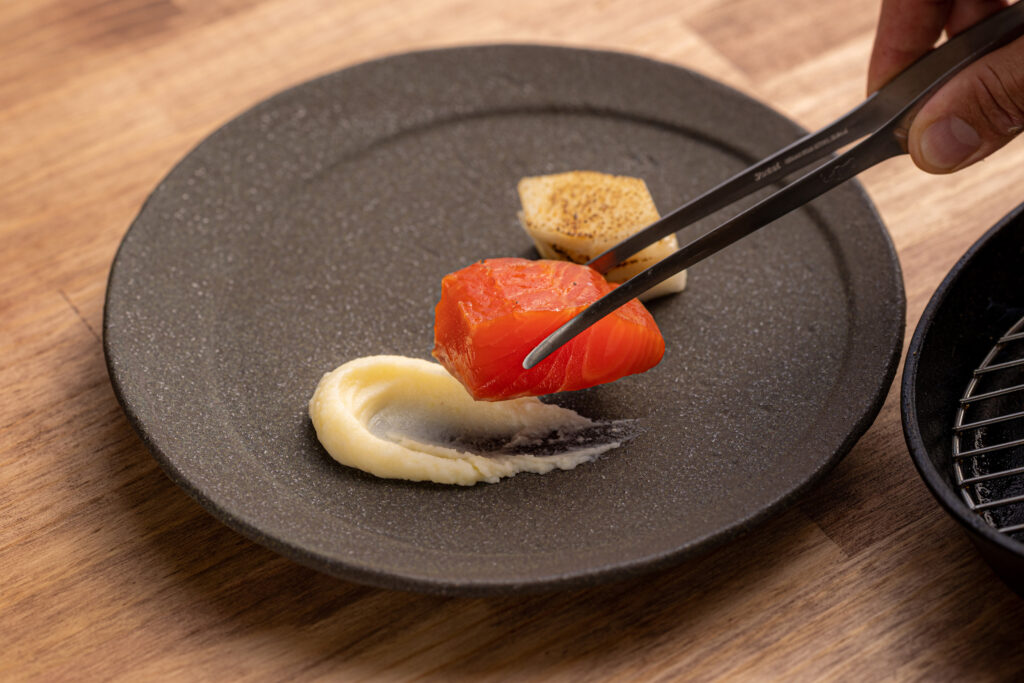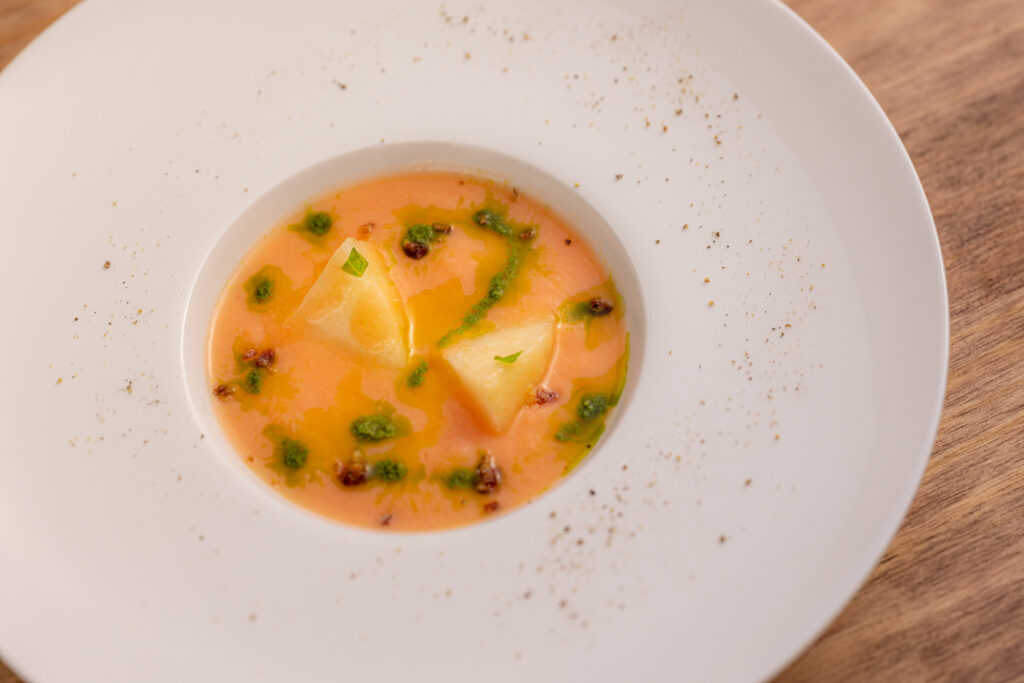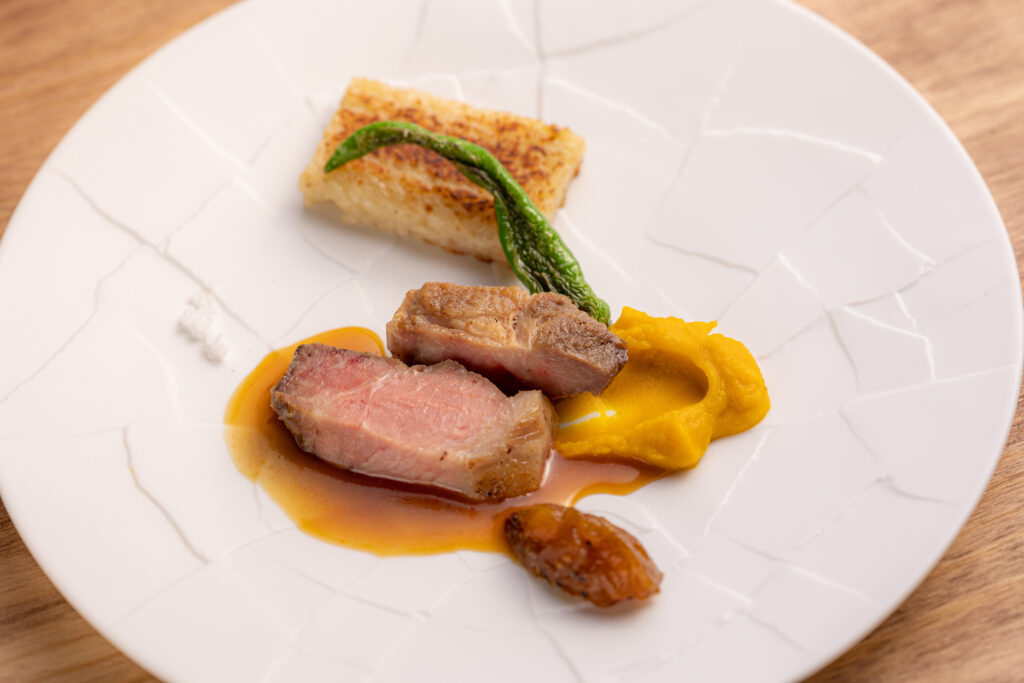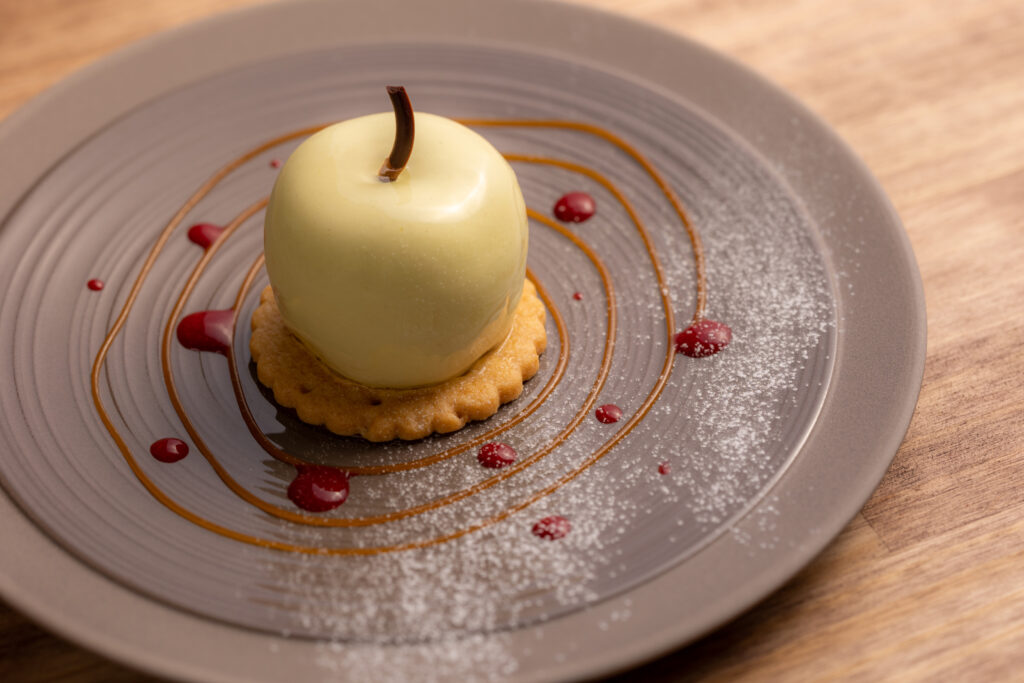 How to Reserve
There are no more dates available for 2022. Orchard Restaurant Matsukawa will be back in April 2023, with reservations starting in March. Stay tuned!
①Click on the "Reserve" button on the top right
②Choose a date from the calendar
③Click on the "quantity" button to select the numbers of tables to reserve
※1 table sits 2 people
④Select the number of people for each table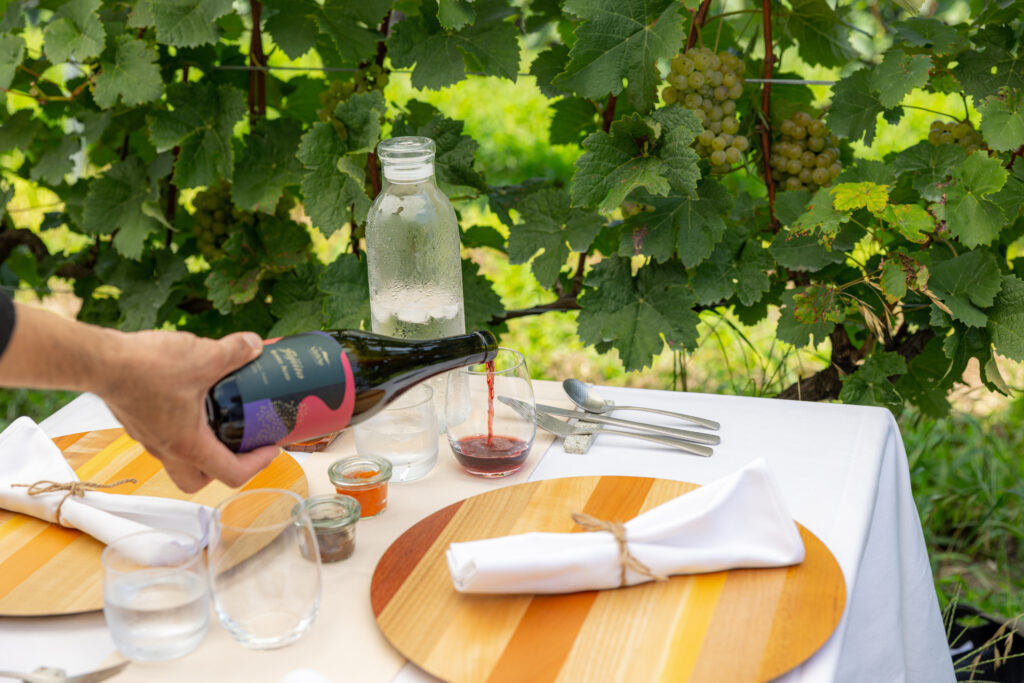 Calendar

There are no more available dates in 2022.
We will be back in April 2023. Stay tuned!
November Menu

Amuse-bouche
Sesame Biscuit with Amago Trout Cream Filling

Hors-d'oeuvre froid
Sansan Farm's Pork Head Cheese and Apple Salad

Hors-d'oeuvre chaud
Alp Salmon Fillet smoked on site
with apple tree charcoal

Soupe
Hot Pumpkin Soup with sweet Apple chunks

Viande
Sansan Farm's Black Pork Loin Roast
with Apple Chutney and Goheimochi Risotto

Dessert reconstruit
Reconstructed Apple
by Cake shop- Pepan

Café ou thé
Locally Roasted Coffee Brew or Tenryumura Japanese Black Tea
Host Farms:

Large family-run orchard stretching over two hectars. The farm has prune, pear, and old apple trees over 60 years old.
Beside the orchard, they also own a cidery- Marukame Brewery.
When the restaurant tour is held here, you will get to dine in the shade of the old apple trees.
(Pets allowed)

This farm owns one of the three wineries in town.
They have been producing wine and cider with fruits grown in their own orchards since 2018.
When the restaurant tour is held here, you will get to dine among vineyard trellis.

Family-run farm which grows cherries, blueberries, pears and apples.
When the restaurant tour is held here, you will get to dine under a grove of pear trees。
(Pets allowed)
Information
Open

from April to November

Price

Adults(13 or older)12,000 yen/person(tax included)
   ※Orchard guided walk, aperitif,
full-course dinner included

Children(6~12)3,000 yen/person(tax included)
   ※Children menu includes soup, main dish
and dessert

Children aged 5 or younger do not have to pay,
but we cannot provide a special menu or baby chair for them.

Max. no of people

10 people

Reservations are accepted for groups of

1 person or more

Min. no of people

4 people
※if we do not reach the minimum number of people by 10 days before the tour, the event will be cancelled.

Reservation deadline

10 days in advance

What to bring

Comfortable shoes, a jacket (for dinner), and bug repellent (in the summer)

Notes

・In case of rain, we will change the location to a roofed cherry orchard.
However, the tour will be cancelled if there is a chance of extremely bad weather,
like typhoons, heavy rain, flood warnings, and other emergency situations.
In case of cancellation due to weather, cancellation policy does not apply.

・There is no age restriction, but we cannot provide any special arrangement for small children.

・Please inform us at the moment of reservation if you have any allergy

・Policy concerning pets:
 If the host orchard allows pets, you can enjoy the experience together with your pooch.

Cancellation policy

10~2 days prior: 30% of total amount
1 day prior: 50% of total amount
Day of activity: 100% of total amount
Ask us more and plan your visit
We're here to help—explore our web site, then ask away!
Use our web contact form when planning
what to do and see, and where to stay.
Inquiries