Access Information
& Other Attractions in Southern Nagano
Access
Where is Matsukawa?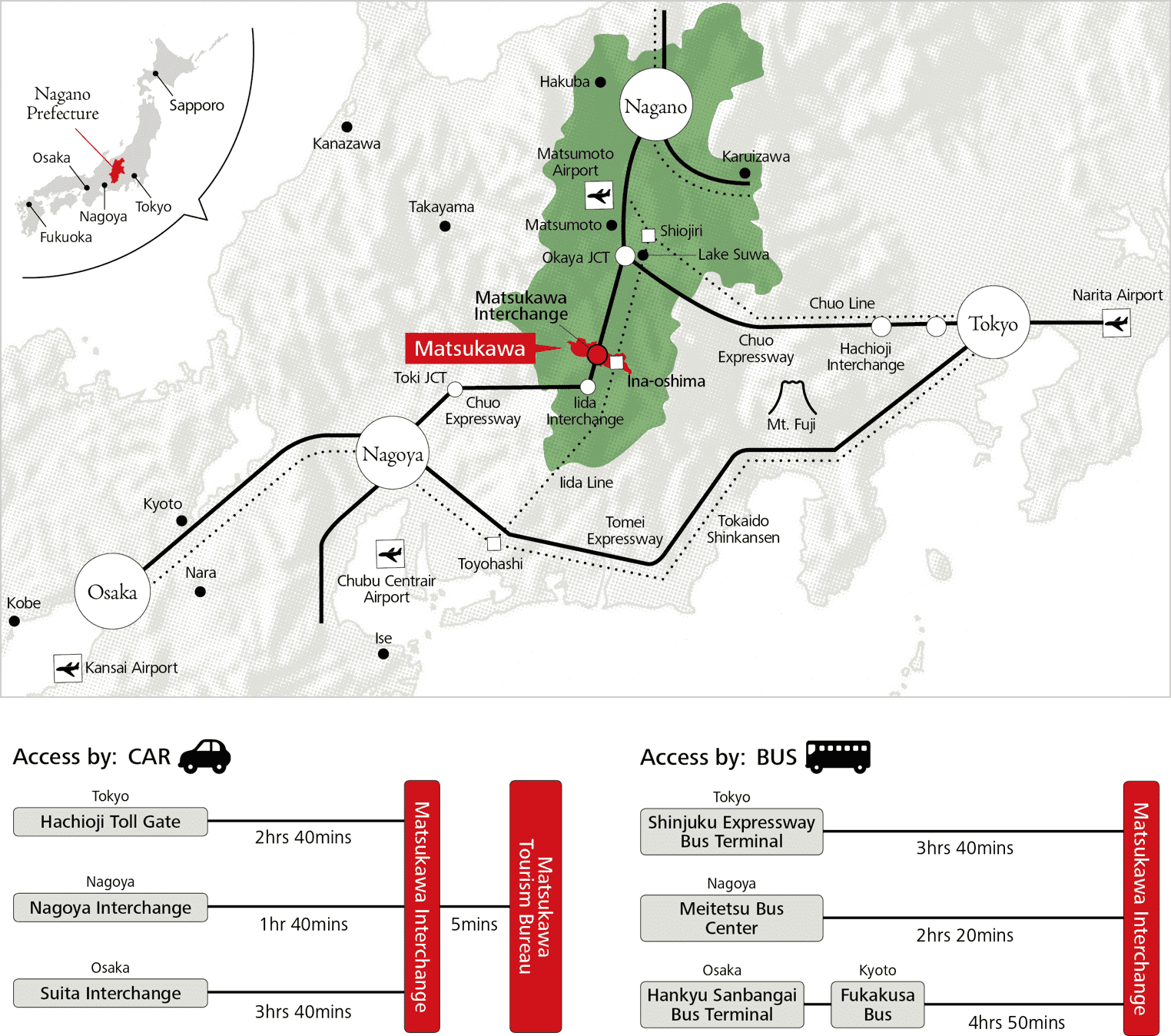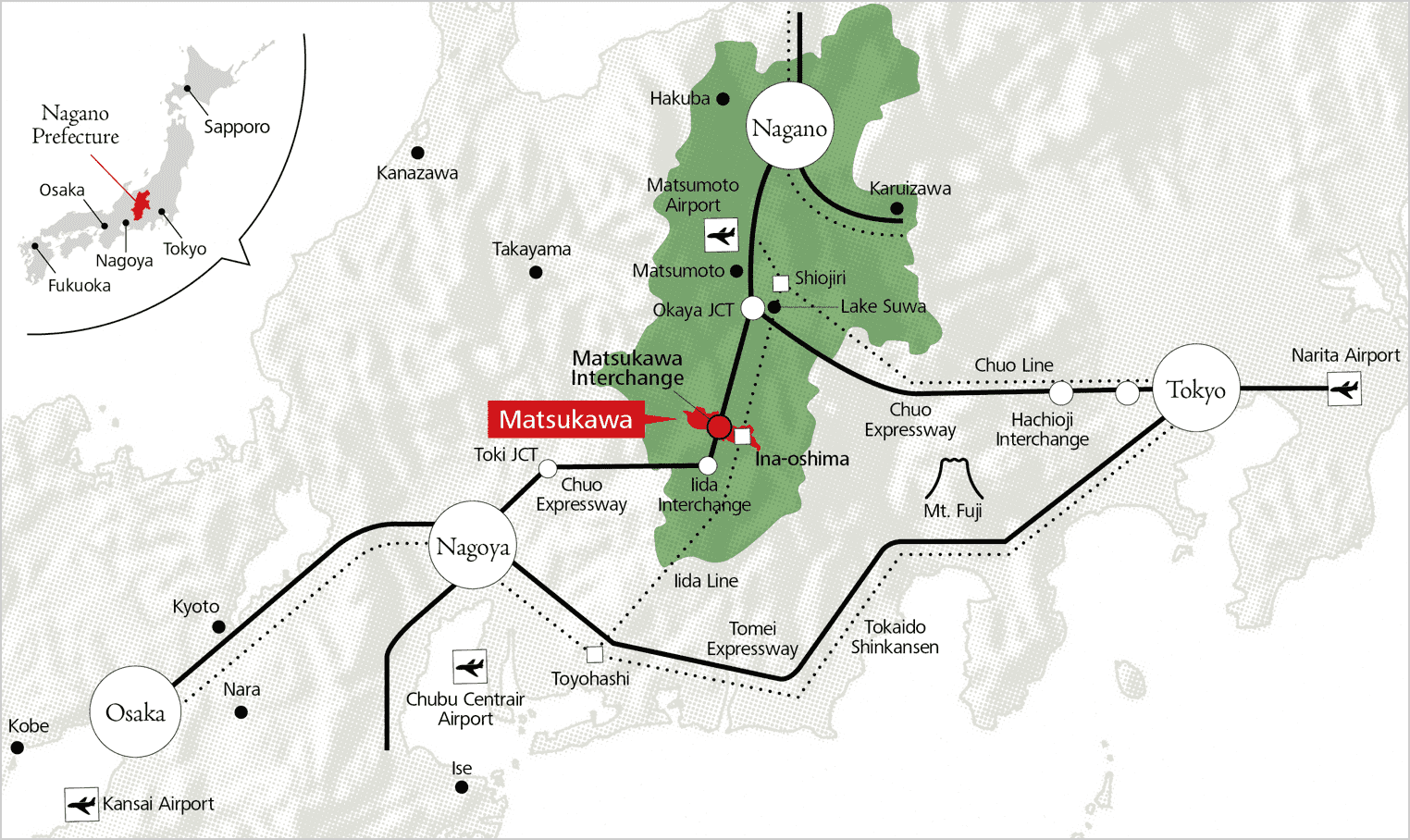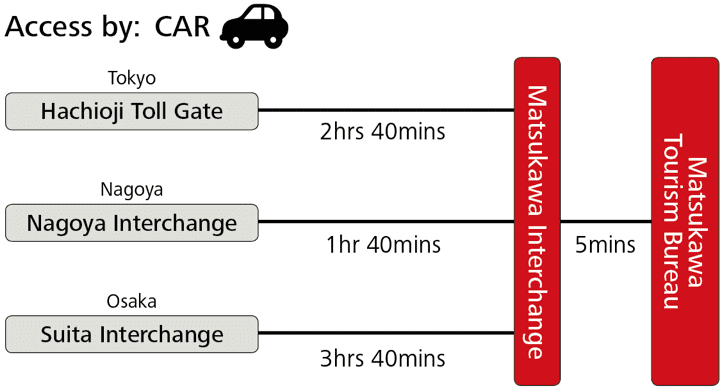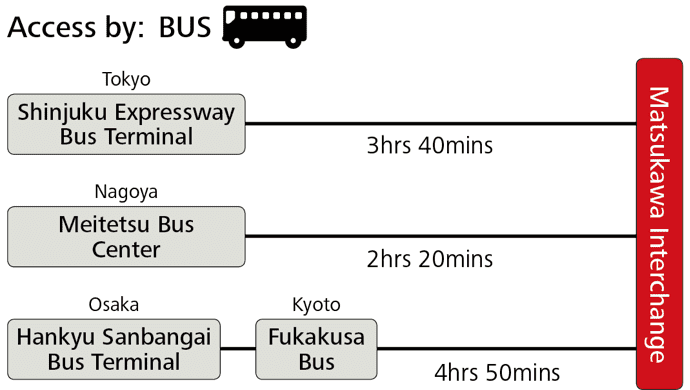 Although Matsukawa may be considered to be "off the beaten track" for international visitors, we think this is actually part of the appeal of our town and region. Matsukawa is in southern Nagano prefecture (province), and if you look at a map of Japan you'll see that the town is located very centrally within the Japanese archipelago. Matsukawa is about halfway between Tokyo and Kyoto, so the traveling times and distances are very similar from either of these major cities. It usually takes a little over three hours to drive when coming directly. The closest international airport to Matsukawa is Chubu Centrair International Airport, which serves Nagoya and the Chubu region. The driving time from Chubu Centrair to Matsukawa is approximately two hours.
Nagano prefecture is a landlocked province that is part of the Chubu region in central Honshu island. The prefecture is geographically large compared to many other prefectures, and is famed for the Japanese Alps, which provide breathtaking scenery and are ideal for a variety of outdoor sports and leisure activities. Nagano prefecture also has many major rivers, large valleys and basins. Matsukawa straddles the Tenryu river valley, and in this segment of the river it is known as the Ina Valley, which is nestled between Japan's southern and central alps. The Tenryu is Japan's ninth-longest river—at 213 kilometers—which flows from Lake Suwa at its source to the north out to the Pacific Ocean at Hamamatsu to the south.
To give you an idea of the distance to Matsukawa from other places in Nagano prefecture, these are the approximate driving times from several cities and towns:
Matsumoto: 1 hr 10 mins
Iida: 25 mins
Suwa: 1 hr
Nagano: 2 hrs
Hakuba: 2hrs 10 mins
Karuizawa: 2 hrs 20 mins
Getting to Matsukawa
Matsukawa has good road transportation infrastructure, which means the best options for getting here are by highway (intercity) bus service (called "kosoku bus" in Japanese) or by car. The town is also served by the Iida train line—a JR local line—so train access is also an option, especially when traveling from another part of Nagano prefecture. Below, we provide detailed information on these transportation options and some external links to make planning your trip easier.
Traveling to Matsukawa by Car
When coming to Matsukawa by car, if you want to cover a large distance in a short time, we recommend using the Chuo Expressway, which connects Tokyo with Nagoya via parts of Yamanashi, Nagano, Gifu and Aichi prefectures. When choosing a rental car, we recommend you select a vehicle equipped with an ETC (electronic toll collection) transceiver, and also select the ETC card rental option when you book your vehicle.
When traveling directly to Matsukawa from the Tokyo area via the Chuo Expressway, please allow a little over three hours driving time plus time for any breaks you take on the way. The equivalent traveling time when driving directly from Nagoya is approximately one hour and 40 minutes. The Chuo Expressway route is also recommended if you are coming to Matsukawa by car from the Mt. Fuji area, Hakone or Izu peninsula.
If driving directly from the Kyoto or Osaka areas, we recommend using the Meishin Expressway, which connects to the Chuo Expressway. If traveling from Osaka or Kansai International Airport, the driving time is approximately four hours.
When coming from other areas, such as the Kiso Valley, Takayama in Gifu prefecture, or areas in Nagano, Shizuoka or Aichi prefectures, you may decide not to use the expressway route for the whole journey. In some cases, the non-expressway route may be more scenic or offer good sightseeing opportunities along the way.
Most rental cars in Japan come equipped with a satellite navigation (sometimes called GPS or sat nav) system, which can be used in English mode. When booking a rental car, we recommend booking a vehicle in which has a sat nav included in the base fee or booking sat nav as an optional extra. When touring by rental car, you can select your destination by address. If traveling by car to Matsukawa, if you have accommodation already booked, please set the address of your accommodation as the sat nav destination. If you want to get information from us on your arrival (between 9:00am and 5:00pm), please set the destination to the Matsukawa Tourism Bureau. The address is as follows:
Nagano Prefecture —> Shimoina District —> Matsukawa Town —> Oshima —> 2788-1
If you have any questions, please call us on 0265-36-6320.
Traveling to Matsukawa by Highway (Intercity) Bus
Japan has an extensive network of expressways, and many parts of Japan not served by Shinkansen or other express train lines are often best accessed by using highway (intercity) bus services, which are called "kosoku bus" in Japanese. These services are competitively priced, and cover a large number of routes.
Matsukawa is served by highway (intercity) bus routes from Tokyo (Shinjuku), Nagoya, and Osaka via Kyoto (Fukakusa bus stop). The services from Shinjuku and Nagoya run frequently throughout the day, with 17 services per day from Shinjuku and nine services per day from Nagoya. From Osaka (via Kyoto) there are two services per day.
The timetables for these three routes to Matsukawa are as follows:
(Timetables valid as of April 1, 2020)
Shinjuku Expressway Matsukawa
Bus Terminal Highway Bus Stop
06:55 10:32
08:05 11:49
09:05 12:49
10:05 13:49
11:05 14:49
12:05 15:49
13:05 16:49
14:05 17:49
15:05 18:49
16:05 19:49
16.45 20:29
17:25 21:02
18:05 21:49
18:45 22:22
19:25 23:09
20:05 23:42
21:05 00:42
Nagoya Matsukawa
(Meitetsu Bus Center) Highway Bus Stop
07:30 09:43
08:30 10:43
09:30 11:43
11:30 13:43
13:30 15:43
15:30 17:55
17:30 19:55
18:30 20:55
19:30 21:55
Osaka (Hankyu Kyoto (Fukakusa Matsukawa
Sanbangai Bus Terminal) Bus Stop) Highway Bus Stop
08:30 09:40 13:24
15:40 16:50 20:34
To make online reservations for the Shinjuku and Nagoya services, please use the following links:
Shinjuku–Ina/Iida Line
To make reservations for the Osaka and Kyoto services, please use the following link:
Osaka–Kyoto–Matsukawa (reservation page available in Japanese only)
Traveling to Matsukawa by Train
Matsukawa is served by the JR Iida Line, and the main railway station in Matsukawa is called Ina-Oshima. If you are traveling within the local area (the Ina Valley of southern Nagano), this local line can be a convenient way to get between towns. If you intend to travel to Matsukawa by train from further afield, we recommend you first make your way to Okaya station on the JR Chuo Line, and transfer there onto the Iida Line service. The traveling time from Okaya to Ina-Oshima is approximately two hours and 30 minutes. Since services run only once every one or two hours for most of the day, we highly recommend you check the timetable online (using Google Maps) or at a JR station before departure to ensure a smooth journey.
There are also two limited express services a day departing from JR Toyohashi station, which is on the Tokaido Shinkansen line. These services run under the name "Inaji." The service departing from Toyohashi at 10:08 daily will get you to Ina-Oshima at 13:29 after making a connection to a local train at Iida.
Places to Visit Near Matsukawa
The southern part of Nagano prefecture is blessed with an array of natural and cultural attractions, so when you visit Matsukawa, we hope you will take the time to explore some of our region's most appealing places. Below is a small selection of places and activities that we recommend that you can add to your itinerary when visiting southern Nagano prefecture. Some of the activities are seasonal, meaning your experience will depend on the time of year you choose to visit. For information on any of these attractions and others in our region, please don't hesitate to inquire with us at the Matsukawa Tourism Bureau inquiries page, or refer to the external links provided.
Star Gazing in Achi Village
Achi village, which is about 30 minutes south of Matsukawa by car, offers one of Japan's best opportunities to view the night skies. During the warmer months of the year, a special tour is available via a gondola to view the stars from location above 1,400m elevation. Many guests staying at the famous Hirugami Onsen (hot springs) nearby take this star gazing tour. Momijidaira Camp Ground in Achi village also offers a great spot for viewing the night skies. For more information, refer to the information on the GoNagano web site page.
Komagatake Ropeway and Senjojiki Cirque
Mt. Kisokoma (called Kiso-Komagatake in Japanese) is the highest peak in Japan's Central Alps (also called the Kiso mountain range), rising to 2,956m at its summit. One kilometer south of Mt. Kisokoma is Mt. Hoken, which is the backdrop to Senjojiki Cirque, an amphitheater-like valley carved by glaciers some 200,000 years ago. Senjojiki is famed for its alpine flowers in the summer, but offers majestic views of the mountains year-round. Excellent access is provided by the Komagatake Ropeway (aerial gondola). The gondola is popular with mountain climbers, hikers and sightseers alike. For more information, please refer to the Komagatake Ropeway web site
Oshika Kabuki
Kabuki is one of Japan's famed traditional forms of drama. While most people associate kabuki with famous theaters in Japan's large cities, there are a few small countryside communities have maintained their own kabuki theater troupes for hundreds of years. One of the most celebrated of these is in Oshika village, southern Nagano, whose kabuki has been performed for over 300 years. They put on performances twice a year, on May 3 and on the third Sunday in October. Local shinto shrines are the venues for these festivities. For more information, please refer to the JTCO web site
Tenryu River Boating and Rafting
Matsukawa straddles the mighty Tenryu river, which has several scenic gorges suitable for traditional Japanese boat trips (called "line kudari" in Japanese) as well as white-water rafting trips. The two most well-known gorges are Tenryukyo and Garyukyo. For information, please refer to the Tenryu River Boat Tours web site
Shimoguri-no-sato: A Unique Mountain Hamlet
This tiny hamlet perched within steep mountain terrain offers spectacular views as well as a glimpse into traditional rural life in an isolated community. Spend time hiking or walking and sampling local produce and cuisine. For more information, please refer to the page on the Nippon.com web site
Takato Castle Park Cherry Blossoms
Takato is a former castle town with a history spanning 700 years. In recent times, it has become a quiet farming community. Once a year in spring, Takato Castle Park (site of the former castle) becomes a bustling attraction for sightseers who flock to see the park's famed cherry blossoms. The blossoms usually reach full bloom in mid-April, but if you plan to see them, be sure to find out the latest information on the state of the park's sakura (cherry blossoms). For more information, please refer to Nippon.com web site or GoNagano
Magome-Tsumago Trail
Nakasendo is the name of the traditional mountain route between Edo (the former name of Tokyo) and the ancient capital of Kyoto. Part of this route passed through the Kiso valley, which is now part of southern Nagano prefecture. Some portions of the route have been extremely well preserved, including much of the traditional architecture. The Magome-Tsumago Trail is a small section of the route of about 8km in length. It can be walked in 2-3 hours at a leisurely pace, and visitors can take in a variety of scenery. For more information, please refer to the 1 page
How to find out more and make reservations?
Explore our web site, and make inquiries through the contact page.
We are here to help you plan a visit tailored to your needs.
Ask away—we're here to help!